Book Review:
Faron Goss by Diane Lechleitner
Maine Books 
The award-winning book, Faron Goss, by first-time novelist, Diane Lechleitner, is my latest review in the Maine Books category. While it is fiction in genre, as a social worker and mental health therapist, I can attest to the authenticity of the depictions of the storylines included in this book. 
Faron Goss lost his mother at a young age and the story weaves its way through parts of Faron's complicated life before after her death. It blends themes of generational abuse and neglect, poverty, community bias, small-town relationships, and grief and loss. 
Faron himself is a multi-faceted character who is described as unusual, different, strange, and peculiar. His personality and odd behaviors, along with the complexity of his childhood, kept me curious and engaged throughout the story, and ultimately eager for Faron to find peace in his world.
"The kitchen walls were still covered with the same flowered wallpaper that had been there when Alison was alive, and her mother before her.  Quinn looked at Faron and, for a brief moment, saw the same forlorn boy with sticky fingers who—so many years ago—had taken nothing from this house but an electric fan and a box of moths.  He had, it now seemed to Quinn, returned with even less."
From the start this story kept me wondering where is this going? How will it end? I had several theories, and as the story unfolded, I was continually surprised —not by overly dramatic scenes—but by the gentle unveiling of each of the believable characters. 
As Faron's development evolved with each chapter, the mysteries (and dramas) of an isolated island community, along with the exposure of the dangers and politics of the fishing industry drew me further into Faron's world. Throughout the story's events are lighter gems offered by the author. Lessons of bird life on the coast of Maine, the natural and art worlds that bring Faron comfort and healing — all while, interweaving the theme of grief and loss throughout his relationships with himself and with others.
The author also balances the details of Faron's bittersweet life with the spot-on humor and sensibilities of Mainers. 
Betsy pursed her lips, then said, "Know what your problem is?" 
"What?"
"You think too much, and a lot of that thinking is barseackwards." She sat down on a log and took a crumpled pack of cigarettes out of her pocket and fired one up, preparing to tell Faron what a dunderhead he was, but as it turned out, she didn't have to… Betsy took in a lungful of smoke, not quite sure what to make of Faron's sudden enlightenment, but happy to take credit for it.  "Well, "she said, exhaling loudly, "I'm glad we got that sorted out".
I enjoyed learning about and trying to understand Faron as well as discovering the community of Menhaden Island.  I appreciated that the events were raw, realistic, and not always the prettiest version of humanity. It left me with the sense that these are real people, living their hard-earned lives here on an island in my beloved state and that the author cared about their portrayal. I know that their stories are real — their pain, losses, imperfections, senses of humor, love of nature, and hope for peace are those that we all share. I loved this book and recommend it to anyone who reads literary fiction, stories about complicated families/people, and those told in atmospheric settings.  This book is a gift for anyone who has ever felt lost, different, more at peace in nature than with people, and may need hope of finding solace after experiencing a deep loss or trauma in your life.
"They're nocturnal animals who —some believe—are guided by the moon."  Quinn paused and admired the moth.  He felt sorry it had taken him this long to appreciate the intriguing flutter of magnificence that meant so much to Faron. He pressed the jar against his chest.  "Does it not require tremendous faith for this little animal to forsake the lovely bidding of the moon and fly through darkness towards manmade lights and unknown dangers?"
I hope this is the first of more books to come by this writer, poet, and artist.  Thank you to the author for gifting me the Advance Reader Copy.
Awards granted to Faron Goss:
Gold Winner Foreword Reviews Indies for General Fiction

Notable Book Award/Shelf Unbound Best Indie Book Competition
Honorable Mention/Royal Gradonfly Book Award
Finalist for The Eric Hoffer da Vinci Eye Award
Nominated for The Indie Next List
Medalist/Independent Publisher Book Awards
Finalist/National Indie Excellence Awards
Faron Goss by Diane Lechlietner (Green Writers Press; 2021; 332 pages; $18.55 Bookshop.org).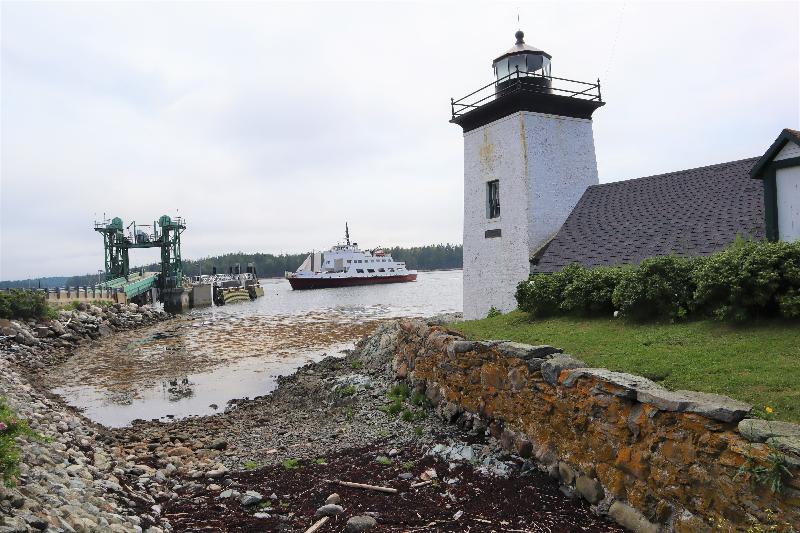 Islesboro Ferry, Islesboro, Maine
"Margaret Chase Smith"
photo by Stacia