Stacia's Insider's Guide
A Bookish Day in Midcoast Maine
Bath – PART 1

Stopping by Mockingbird Bookstore? Check out the rest of this adorable town too!
Reminiscent of English villages, Bath's maritime history is evident around its bustling downtown. It sits alongside the Kennebec River and you can catch glimpses of it from Front Street (similar to England where the busy mercantile streets are called "High Street"). Along Front Street you will find the majority of the shops, restaurants, and businesses with several others worth checking out down a few of the side streets. At the end of Front Street you'll view the edge of Bath Iron Works and the picturesque Sagadahoc Bridge (this is also Rt. 1 North headed toward Georgetown, Wiscasset, and Downeast Maine).
Bath is a very charming town with a vibrant main street – lots of architectural and civic character with several monuments hailing to the town's maritime past. In and around town you will also find nearby Maritime attractions (such as historic Bath Iron Works – founded in 1884, and considered during WWII to build ships of "superior toughness" by sailor and Navy officials, giving rise to the phrase "Bath-built is best-built"). The town boasts pretty water views, photo opportunities, and historical elements which means there is something for everyone to enjoy here.
Bath is conveniently located on Rt. 1 and is totally worth the trip (whether you are visiting Maine, or if you live here and haven't been to Bath in awhile) and here is why. Located approximately 15 minutes from Brunswick (or 50 minutes from Portland) you will find several exceptional and comfortable restaurants, a brewpub, an independent AND used bookstore, coffee shops, Reny's, a candy shop, a fantastic cookware store, seafood restaurants, and many more unique shops. Here are some of my personal favorite establishments that I visit on a regular basis (I had to split this post up into two because Bath has so much going on that one is not enough!):
Bath's must-visit bookstore:
Mockingbird Bookstore~ 74 Front Street
Besides a great selection of all genres of books, the shop also offers unique gifts, bookish items, and bookish events – author events and book clubs. See my post – click here.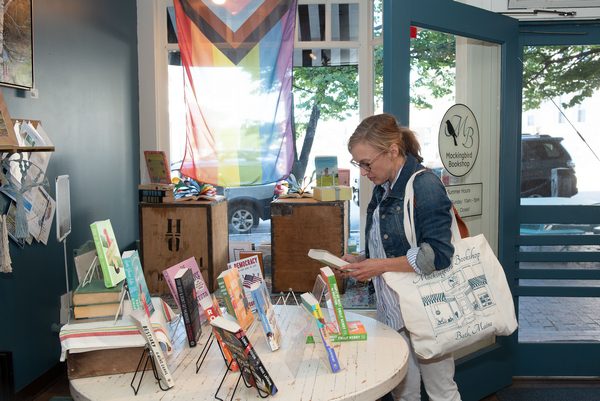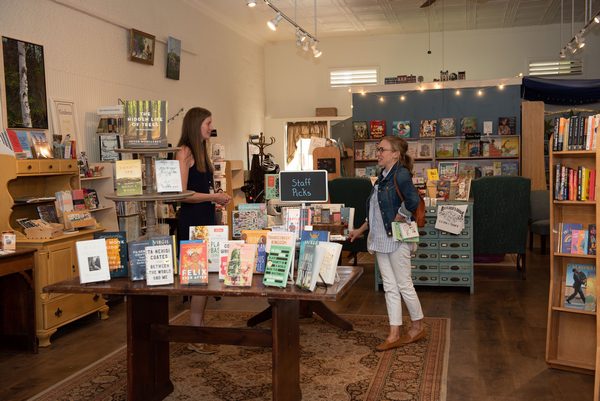 Where to eat
The Fountain – Ice Cream & Deli ~ 100 Front Street
Soda Fountain, Ice Cream, Sandwiches, and Daily Specials. A seriously adorable deli and ice cream shop. It really is like stepping back in time!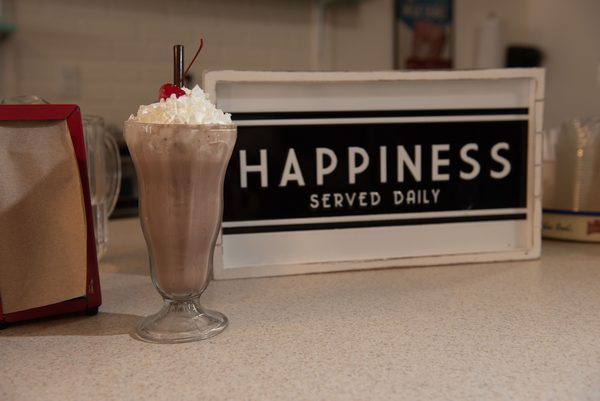 Where to shop
Lisa Marie's Made in Maine ~ 170 Front Street
One-of-a-kind products handcrafted ALL by Maine artisans. My go-to shop for all holiday and special gifts. Everything from homemade candles to jewelry, and art.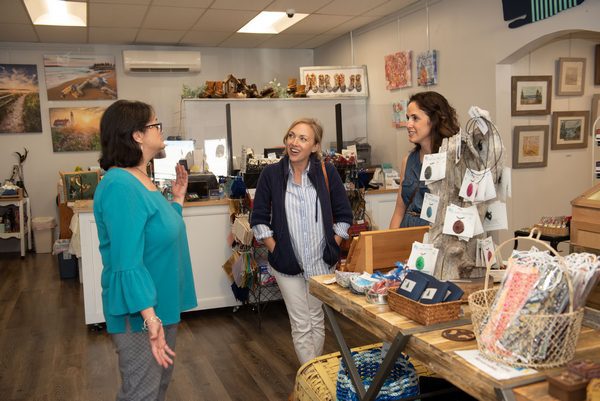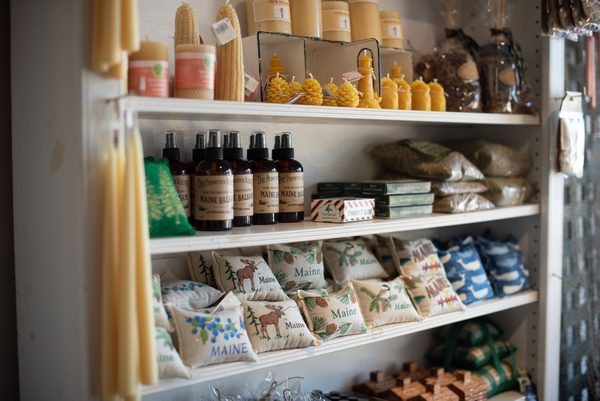 Where to rest your weary feet
Linwood Temple Waterfront Park~ 61 Commercial Street
Take a new book from Mockingbird Bookstore, a blanket & picnic (from The Fountain!) and stroll down Arch or Broad Street toward the river (a 2 minute walk). Relax on the grass or stroll along the wide walkway adjacent to the river. Watch boats coming & going from the marina and pass by on the historic Kennebec River. There are commanding views of the Sagadahoc Bridge (Rt. 1) from here.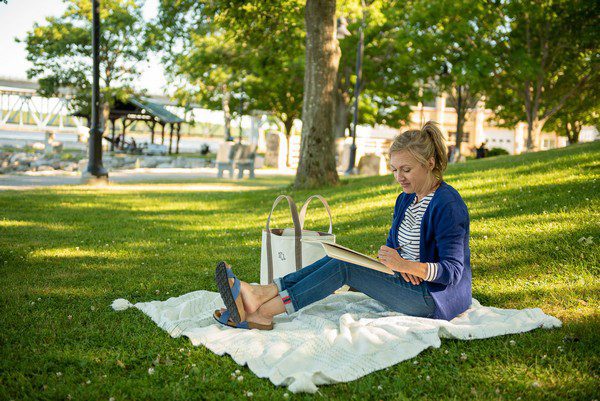 Where to take the kiddos
Maine Maritime Museum~243 Washington Street
You will want to hop in the car for the 5 minute drive over to the Maine Maritime Museum. Located directly on the river, the museum's 'campus' has many interactive activities besides their exhibits. From the immersive lighthouse exhibit, the Pirate Playship, the human-sized lobster trap, to the working Boatshop – where you can chat with the boatbuilders, all-ages will walk away with a new respect for Maine's Maritime history. There are also seasonal, informative cruise tours that are very reasonably priced – from 30 minutes to 4-hours, there are several options to choose from. Have I mentioned how beautiful it is here? It is worth the drive to Bath just to walk around the grounds – but your support of the museum will help ensure that Maine's rich maritime history will be held for future generations.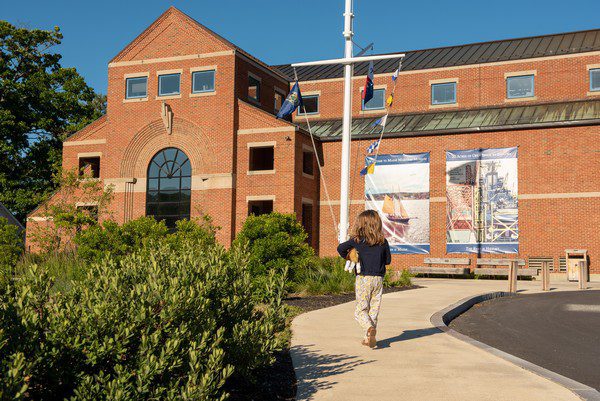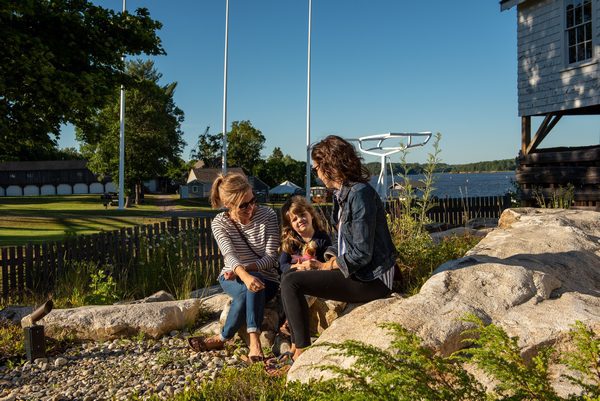 Photos credits for this post: Tiffany Dumas, The Tiffany Studio, Brunswick ME